VIDEO: "Khan Sb Ki Rooh Tarap Gaye Hoge", Review of Remix By Rabi Pirzada
Written by

Reporter KB

Published by:Pakistan Views
Thursday, 09 March 2017 18:34
Anyone who has been a die-hard fan of Nusrat Fateh Ali Khan knows the place Nusrat Sahab holds in the world of qawwali and Sufism.
Even when there have been numerous singers who tried to create renditions and remixes of Nusrat Fateh Ali Khan's qawwalis and songs but still no one has been able to reach halfway to his level of singing.
Singer Rabi Pirzada also tried to recreate one of Nusrat Fateh Ali Khan's famous qawwali 'Rashke Qamar' in her 'own' style.
According to Rabi Pirzada, she has tried to give the message of women empowerment in the video, (but of course in the most Nsfw manner.)
Rabi who has featured herself as 'Bano killer' in the song can be seen playing with a cobra around voodoo dolls and killing the kidnappers with heavy guns. Girls who are shown as her team workers in the video can be seen strangling a hen, eating raw eggs and chopping the voodoo dolls with a knife in the video.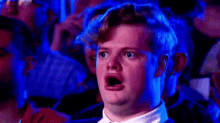 While Rabi has used such bizarre props in her song, she can also be seen singing the song in her own outlandish style while making weird expressions and dancing around kidnappers while waving a knife.
According to Rabi Pirzada, she has paid a tribute to Nusrat Fateh Ali Khan by recreating the song (please say it's a lie) and she wants to tell men that women do not need them for their protection. (no man can dare to offer protection after watching this video)
The beautiful message of the video is actually distorted in the song while the music is also not impressive.
People have also given their responses towards the song on a public post shared by Rabi Pirzada.

We can't stop Rabi Pirzada from creating such 'masterpieces' but we can at least warn you to watch and listen to the song at your own risk.
Video
Leave a comment
Make sure you enter the (*) required information where indicated. HTML code is not allowed.